What Projects Do I Require Joinery Professionals For
Posted by:
Admin
Tags:
Posted date:
20-02-2023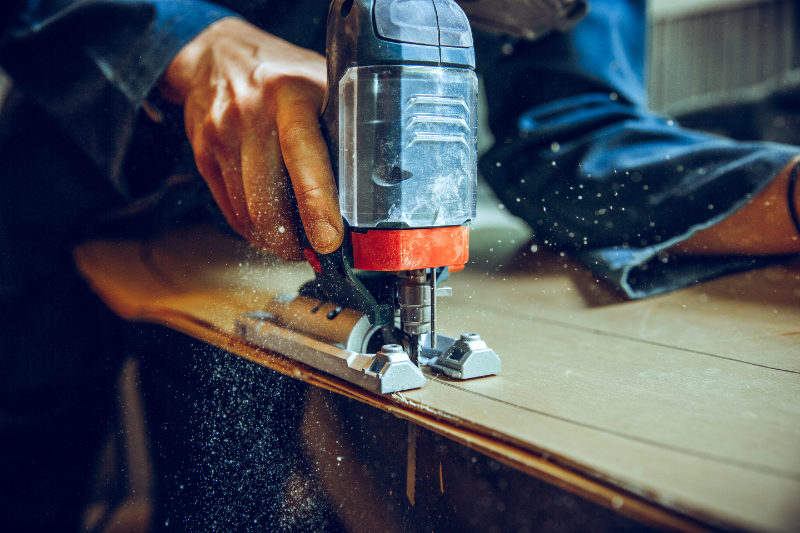 What projects do I require joinery professionals for? Glasgow Joinery Contractors offer commercial joinery services in Glasgow and Scotland. Find out more about what a joiner does and whether your project requires a joiner or carpenter.
Does my project require a joiner or carpenter?
Selecting the perfect joiner or carpenter to complete your task or building project is vital to the outcome. We want to encourage property owners to ensure they do as much research on their local joiners and carpentries as possible so that they don't fall victim to choosing the first person or company they come across online or in the phone book.
What Are The Responsibilities Of A Joiner

Understanding the specific differences between both trades will help you avoid problems and help you assess whether or not your project requires a joiner or carpenter.
When researching what your project requires, it's essential to understand the jobs of a construction site carpenter and joiner and have as much knowledge of their differences as possible.
It's possible that you may have thought they were the same job as the lines blur; most of the population often believe the same! Whilst they share similarities, they specialise in different aspects of construction.
Alongside figuring out which of the two your building project needs to proceed with its design or manufacturing, next comes the challenge of finding suitable local professionals with all the glittering reviews and correct qualifications for the job. The one you opt for will all come down to the tradesmen work you need for the best outcome.
You'll find numerous tradesmen in your location with the carpentry or joinery skills and talents for the job; it is simply a matter of deciding which has the perfect portfolio and whether or not you wish to hire one man or a whole team to perform it.
Ensure that you contact them as soon as possible to begin discussing your project; typically, this can be done with an in-person consultation so that you can assess whether or not they are capable of completing the tasks at hand.
Get a competent person to help you curate a well-written contract that details the stages of the process, any on-site or off-site risks and your product desires. When hiring a joiner or carpenter, you want to ensure that you are covered in case any issues with planning, designing, or manufacturing occur throughout the process.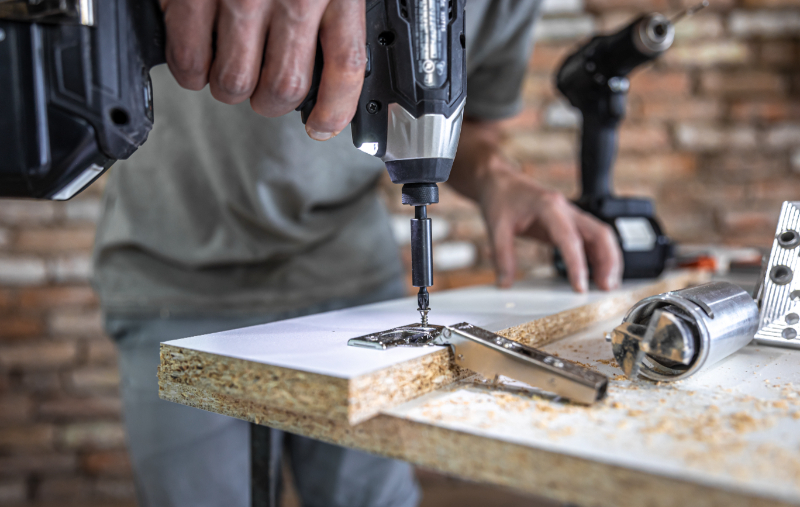 What is the difference between Carpentry & Joinery?
While joiners and carpenters often use wood and timber to curate their designs and products; however, the ability and techniques they use other materials separate their careers.
Unlike what is expected in carpentry, joinery relies on wood above all other natural materials; they begin joining pieces together with sockets, bridle joints, glue, butt joints and various others. Professionals in this field will curate the necessary pieces to join materials using raw timber from their workshops.
On the other hand, carpenters in the construction industry utilise and explore a wide variety of materials, such as nails, metal frames, screws and many more, to help create their work.
Most joiners are responsible for creating the prefabricated timber commonly used by carpenters to fix materials in place. Carpenters are far more capable of creating their own wooden fixtures and joining materials where needed.

What does a Joiner do?
When it comes to the jobs involved in being a joiner, there are many, which is why those who wish to become a joiner are encouraged to look into college courses or advanced apprenticeships, as this allows them to gain on-the-job training. Joiners are primarily responsible for all parts of the process, from designing and creating to installing brand-new structures and performing fittings of products and furniture utilising fine woodwork. Let's improve our joinery knowledge. Joiners have many roles; some of their significant duties include the following:

They must learn all the different types of natural and man-made wood and decide the most suitable material for the construction task.
Joiners must be well-versed in the art and details of technical drawings and how your project can accurately translate them into your current building.
They are responsible for performing and conducting adequate site surveys.
Joiner work involves creating various design drawings and sketches of your project work and all the requirements and detailed specifications.
They then proceed to measure and mark the wood they wish to use according to the technical design plans.
Your local joiners will cut wood by hand or using large machines.
After estimating the number of materials requested for a job, they produce thorough cutting lists and liaise with sub-contractors and suppliers to obtain material orders.
They draft up job briefs for their teams of engineers.
Joiners manage their staff team's budgets, production schedules, and used equipment. They are much like a project manager in numerous ways.
They are responsible for conducting quality checks on their design products, materials, equipment and final products.
Joiners utilise a broad range of high-quality equipment, from hi-tech design and drawing software to state-of-the-art cutting equipment and even traditional tools like circular saws, chisels and mallets.
Lastly, they will curate a progress report given to their senior managers. Such reports detail the products they have created and manufactured, whereabouts they were placed or fitted and their purpose. It also may include other details such as costs and measurements if necessary.
What is Bespoke Joinery?
Bespoke joinery is an aspect of timberwork in the construction industry that is typically defined as creating timber items specifically customised to suit a variety of design and fabrication requirements.
Joiners often approach such bespoke levels of design and product creation in two ways; they can design a project to fit the interior of a pre-existing structure explicitly, or they may create the entire structure from scratch, which will take longer.
However, this is more likely to ensure all aspects comply with the requirements. Both forms of joinery are fantastic ways to maximise and utilise the space most stylishly with incredible attention to detail.
Bespoke design and manufacturing is an excellent option for those that wish to draw attention to their establishment, a specific room or an aspect of interior design in both a practical and aesthetic way.
Those looking to add a certain flare or unique component to their buildings, homes, library, restaurant, reception, foyers, etc., should look into bespoke joinery.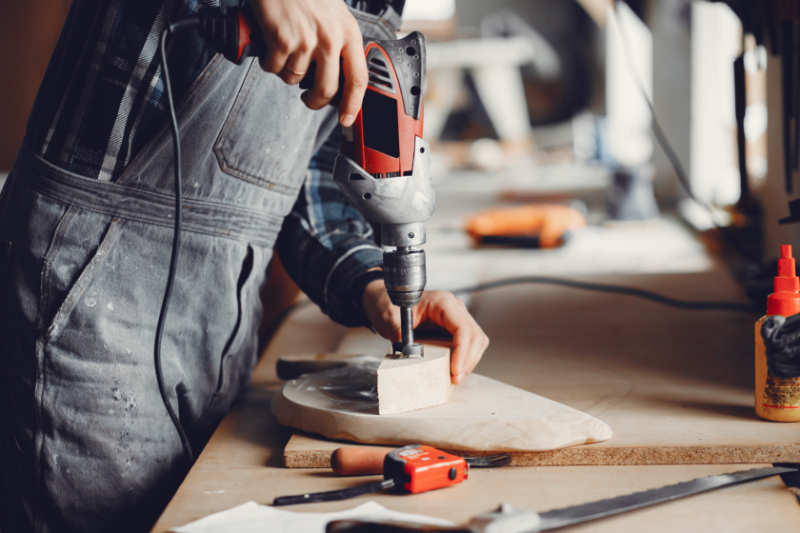 It can allow you to curate design pieces, complex projects and installations that are particular to your company and its values. Experienced joinery professionals can create, design and fully install high-quality, unique components tailored to your spaces and outdoor landscapes.
There are numerous examples of bespoke joineries, such as fitted furniture, bars, door frames, roof trusses, vanity units, staircases, reception counters and numerous other handcrafted goods that require specific measurements suitable for your particular environment.
What are some examples of Bespoke Joinery?
Many joinery companies offer their clients the option to choose bespoke joinery for their developmental projects, as these can help elevate and transform your household or commercial area. Bespoke joinery can be utilised for any environment; however, it is most commonly implemented throughout businesses for numerous different sectors, for example, education, hospitality, commercial, leisure and healthcare.
With bespoke joiners, many crucial projects undertaken by professionals are purposely designed for a particular reason or to achieve a specific outcome, such as improving the timber frame structures and decor to enhance the practicality or aesthetics. Professional joiners may implement furniture packages, like study desks, cabinet-making and chairs or tall bookshelves for school or university libraries and study rooms.
They can provide endless complex panelling designs and furnishings of the highest exacting standards without compromising on aesthetic value. Professional joiner teams spend plenty of time working on the design before manufacturing the perfect structures, frames and decorative features before finally installing them in the restaurant, bar area, front-of-house reception, or inside offices.