Are you looking for commercial bathroom fitting in Glasgow or the surrounding areas of Scotland? Our professional construction team offer washroom design and installation services.
Washroom design and installation Services
Not only do we install kitchens, Glasgow Joinery Contractors Ltd provide washroom, bathroom design and installation services for all our local Glasgow, Scotland customers and clients.
We have talented and knowledgeable professional experts on board to deliver an installation to suit all domestic and commercial property, large or small, in the Glasgow areas, no matter the location. We highly recommend our services for bathroom installations and design ideas.
Our expert's workmanship always receives great reviews. We have garnered a fantastic reputation with all clients from our past and present.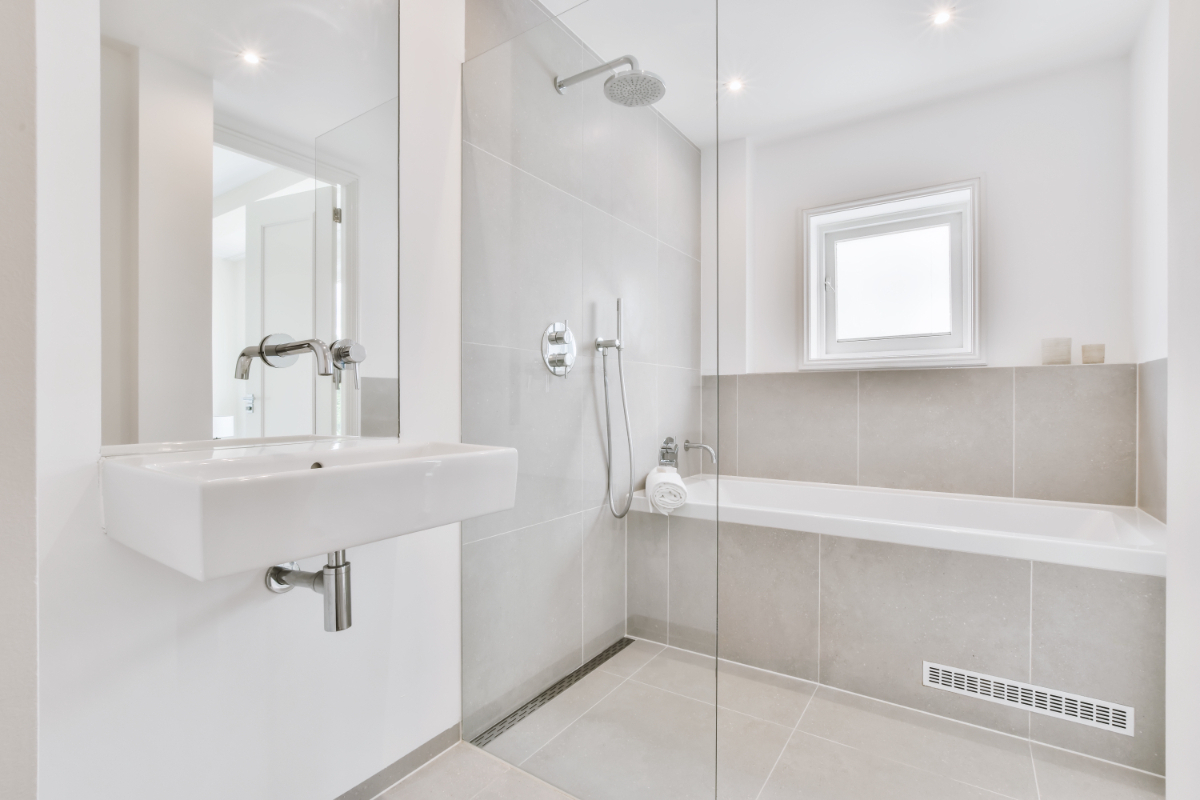 Bathroom Design
Our Glasgow Joinery Contractors professionals can guarantee that your requirements for your washroom design will be fulfilled when utilising our services.
The new bathroom's we provide to our local Glasgow, Scotland, clients and customers are of high quality, incredibly functional and stunning pleasing interiors for both domestic and commercial properties to enjoy.
Our design team strives to closely ensure that your project meets all your requirements for your desired washrooms.
We can use the latest technology, Computer-Aided Design (CAD) and 3D Computer Generated Imagery (3D-CGI), to bring the vision alive for you and show you everything planned before your eyes solidify the plan the next stage.
In addition, we'll ensure we include all the specific details you want, from the colour of the partitions and the IPS panels (Integrated Plumbing Systems) to the room's overall layout.
Our professionals have years of experience in the industry of fitting and installing bathrooms and will make sure each part of the design meets your household requirements or reflects your company's aesthetic and values.

Bathroom Installation
Glasgow Joinery Contractors have harnessed an extensive network of approved, registered and trusted washroom installers and contractors that allow us to deliver quality washroom fixtures and fittings and also install them for our happy, local Glasgow customers and clients.
We offer a complete and structured high-standard installation and design process to ensure your work or home life is never disrupted.
The services we include are tiling, plumbing and electrical work to the painting and decorating process; our trusted, skilled contractors can handle the full installation for you.
In addition, we can provide an assigned project manager throughout to oversee the whole process.

Contact us for further details, information or advice on the type of washroom you require for your home or worksite building. Our friendly, reliable professionals will be in touch with a free quote ready once discussing the sizes and styles or any extra key details.
Washroom Fitout
At Glasgow Joinery Contractors, we supply all quality equipment and products you may need for all your commercial washroom cubicles, toilets and any hinges or sanitary ware and the individual urinal flush control you will likely require.
Our excellent team of experts can also help you in product selection, with the know-how to advise on the best ones for your chosen types and styles.
So whether you need benches and lockers for your changing rooms in gyms, leisure centres or clothing stores or you're searching for suitable toilets and sinks to suits your office bathrooms, we can provide a personalised quote that perfectly fits your budget.
Our experts will also strip out any pre-existing bathrooms on your site within the services we offer to prepare for the new products and installation.

Toilet Refurbishment
Our talented installers and construction workers can also complete toilet refurbishment for our Glasgow, Scotland, clients and local customers. We will work with you closely to ensure your fitted toilets and cubicles are just like brand new when we are finished with the job.
So join us in the design and planning process whilst we gather all of your requirements to refresh your bathroom with repaired, redecorated or replaced toilets to suit the overall aesthetic of your business.
Contact us for further information or a free quote. Our friendly, reliable professional will be at the end of the phone to provide advice and details.
If you cannot reach us by a call, send a message to our email address, we strive to respond as soon as possible. You can access all of our contact details on our website.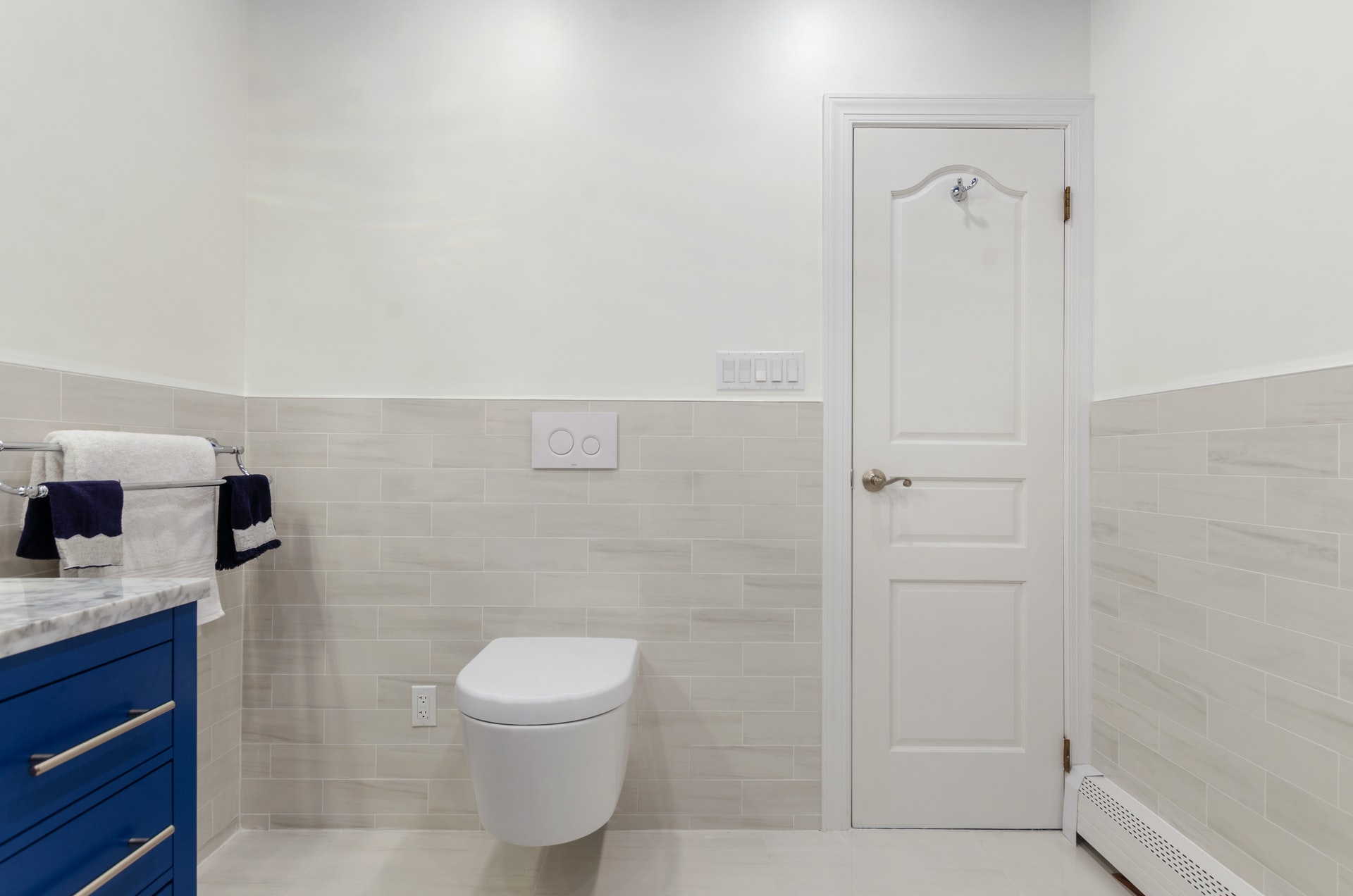 Changing Room Refurbishment
Suppose you are looking for changing room refurbishment to spruce up your store or leisure centres changing rooms and bring the life back into them.
Perhaps your store is receiving complete refurbishment, or you've begun redecorating and want the changing rooms to match.
Look no further than our expert bathroom fitters at Glasgow Joinery Contractors. Our team are qualified and have full knowledge of all workings to bring you the best new refurbishments and replacements of old products, equipment and appliances to suit your changing room.
We can provide benches, locks and hinges for doors or curtains in the correct colours or patterns to match the walls and surroundings.

Washroom Shower Design
Glasgow Joinery Contractors professional designers and installers can offer a washroom shower design service for all those searching to revive their shower room cubicles.
Our talented designers can spend time discussing the perfect shower designs and styles to suit the washroom of your commercial or domestic property accurately.
We offer numerous different styles to choose from and can use the latest technology to bring your preferred design to life to agree on a plan before bringing in our skilled installers and fitters.


---
If you require commercial bathroom fitting in Glasgow and the surrounding areas of Scotland, get in touch today. Call 07973438295 to discuss your requirements.
Contact Us
Call us:
Email Us: