What Is Building Services Maintenance
Posted by:
Admin
Tags:
Posted date:
21-03-2023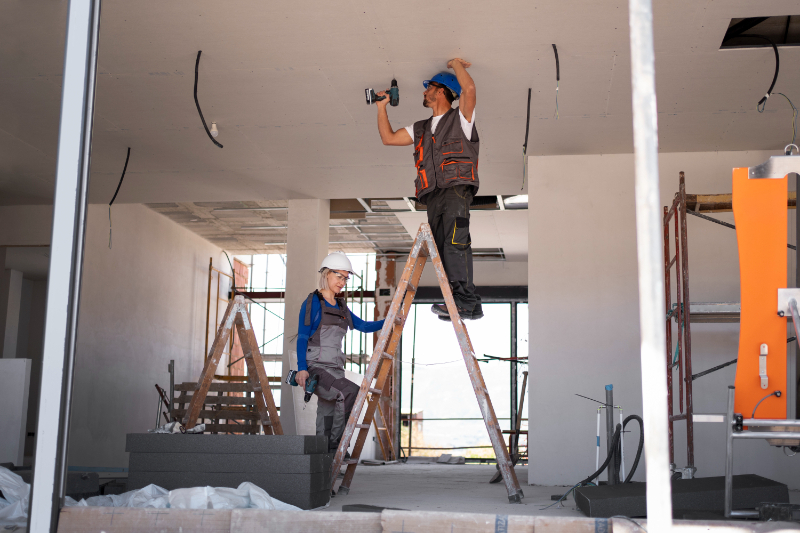 Have you been asking: what is building services maintenance? Glasgow Joinery Contractors are professional Commercial Building Contractors working throughout Glasgow and the surrounding areas of Scotland. We look at the importance of building maintenance and the types of building maintenance to employ.
What is building maintenance?
Building services, engineering services and other utility services involve a wide range of different duties depending on the building you are maintaining. All the systems in commercial, industrial or domestic properties have repair and maintenance activities that you or your maintenance technicians must perform.
Whatever the duties, there is a lot of behind-the-scenes work that takes place to keep any property comfortable and safe for people to use. Building services research ranges in necessity, but any property can benefit from having them performed. Common building maintenance includes tasks such as cleaning common areas, repairing broken elements of the property internally and externally and regularly removing rubbish.
Inspections, major or minor repairs and maintenance are also important for a property's air conditioning, plumbing, electrical and general building systems. If a property has significant outdoor spaces, such as gardens, driveways or landscaped areas, this will also require maintenance to ensure they remain inviting for employees or visitors.

Importance of Building Maintenance Services
The importance of building maintenance cannot be overstated, as alongside ensuring your property remains safe and comfortable to be in, it can reveal crucial information about the condition of your property.
Most building maintenance is carried out at regular intervals, perhaps once or twice a year, allowing you to gain insights into the health of your property over those time intervals, how it changes and whether certain elements require more maintenance than others in that time.
Without regular maintenance checks, you can miss spotting both serious and minor structural issues. Leaving even small issues unresolved can lead to potentially significant problems that will be more expensive to repair.
Proof of regular maintenance can also increase the value of your property if you eventually decide to sell. But, if you plan to stay there for the long term, these regular maintenance checks can help increase the potential lifespan of your home or commercial property.

Types of building maintenance work
There are three main types of building maintenance you can perform on your property. Each has a different purpose, but they are equally valuable in terms of responsible property ownership. These three types of building maintenance are:

Preventive Maintenance Services
Planned preventative maintenance focuses more on any existing damage already present in your property. Once your contractors have discovered the extent of the damage, they can put measures in place to retain the property and prevent the damage from developing further.
While you may not need preventative maintenance as often as other types, performing it can dramatically improve the durability of your building and its internal structure.

Routine Maintenance Services
This is the main type of property maintenance most people usually think of. Every building requires this type of maintenance, which you should schedule at regular intervals according to your maintenance plan.
Its main purpose is to identify potential risks a property presents as the materials in it naturally decay or degrade over time. This is why you need regularly scheduled maintenance, as leaving a gap between maintenance checks can allow serious issues to develop unnoticed, leading to poor quality control.
Depending on the original condition of your property, you may need daily, weekly or monthly checks to ensure the condition does not deteriorate too far.
The maintenance tasks performed during these checks range from lubricating your door hinges to inspecting the emergency utilities and electrical distribution systems. Again, the condition of your property will determine how thorough these routine maintenance checks need to be.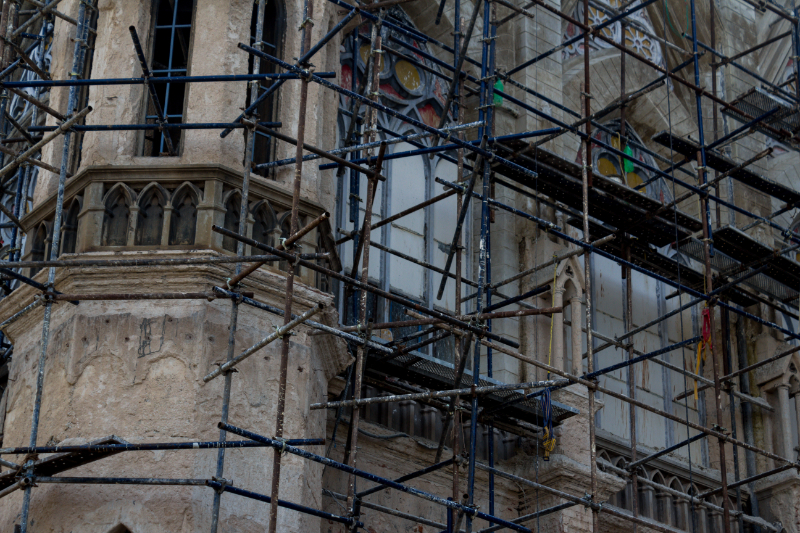 Corrective Maintenance Services
If the damage in your building has developed too far, you will need to perform corrective maintenance to fix it. Building managers or owners use corrective maintenance to restore their property, so it is safe and comfortable to use again.
This type of maintenance cannot remedy the issues or decay in your building, but it allows you to put a maintenance program in place to guide repair efforts.

Example of building maintenance
Sometimes, building maintenance can be taken for granted, especially in commercial or residential properties. Most occupants, employees or visitors will expect the lights to work and the building to be kept clean without thinking of the team of maintenance staff it requires to keep a property functioning.
It's important to remember that it's the in-house maintenance department that keeps the property habitable and comfortable for those using it.
Rental properties, such as blocks of flats, are possibly the best example of this. The building and its occupants will have a range of needs, from cleaning to repairs, which the maintenance team must handle.
If the property has outdoor areas, then landscaping is also a necessity for regular maintenance. Occupants may also put in work orders or maintenance requests for appliances, or even pest control services, which the maintenance supervisors must assist with.

Types of properties that require building maintenance
Any property will benefit from regular maintenance. However, there are some property types that benefit more than others from thorough maintenance performed to a schedule. Here we will look at some examples of properties that require more maintenance than others.
Some will be more prone to damage and decay, while others perform essential functions and, therefore, must be kept in the best condition possible.

Industrial Facilities
Most industrial buildings are very large and require external access points for receiving and distributing goods, also seeing increased footfall from employees and visitors alike.
Since they house large-scale industrial operations, they typically need large amounts of electrical power for HVAC systems, other temperature control measures or industrial processes.
Thorough maintenance is, therefore, crucial for continued operations on industrial premises.
Industrial lighting is also necessary for safety purposes, requiring a significant power supply with efficient energy management.
Warehousing is perhaps the largest draw on an industrial property's power. Since they need to store their goods safely at the right temperature for the processes they perform.
Additional spaces may also be included in an industrial setting, such as office space, for additional staff. These extra working spaces will also have a significant draw on resources, which also need to be constantly maintained by a dedicated team.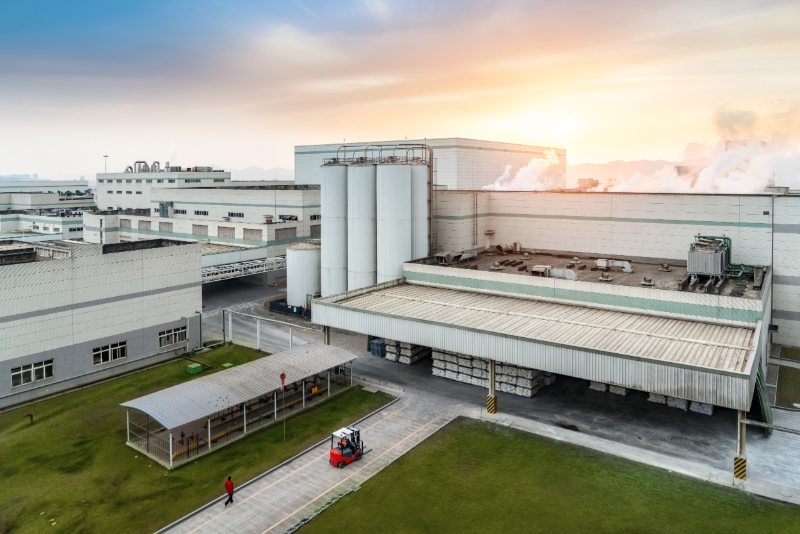 Public Buildings
Public buildings receive funding from local authorities and councils or the UK government itself. These facilities include properties such as libraries, schools, colleges, post offices, medical clinics, public transportation depots and other services that are open for the public to use.
These property types require more maintenance than others because they typically see more footfall and damage. Schools, in particular, have extensive maintenance requirements, due to how the property is used on a regular basis.

Medical
Medical facilities perform a vital function in society, whether they are local clinics, large-scale hospitals or medical offices. While the needs of these properties will vary, their essential nature means regular maintenance is vital to keep them operating properly for the people they serve.
Hospitals with patients on life-support systems must have on-site building maintenance workers 24/7 to ensure everything continues to operate normally.
Backup generators are another essential part of the ongoing work performed in hospitals and medical facilities. Patient support services, such as surgeries, life-support and ongoing care, need constant power, which means the maintenance schedule for the regular power supply and backup generators is extensive.
The maintenance team must also pay full attention to the needs of the medical building they work in, ensuring they have adequate training and equipment to deal with sudden interruptions to the general working environment. These can include things like fire alarms, natural disasters or power outages.

Retail Projects
Vast retail projects also require ongoing maintenance to ensure a constant level of service while businesses are open to the public. From malls and shopping centres to regional commercial parks, all have maintenance needs that must be met during opening hours.
As commercial assets, their operation is vital to the success of the businesses that use them. However, it is the individual companies' responsibility to oversee maintenance within the properties they rent.

Commercial Office Buildings
Commercial offices are pervasive in the modern world, often housing multiple larger businesses under one roof. This means the maintenance requirements of all these businesses must be handled by a single maintenance team attached to the property.
However, these requirements are only temporary, since most offices are only occupied during normal working hours, unlike the 24-hour maintenance requirements of other properties on this list.
Whether in a high-rise property in a commercial working district of large city buildings or a low-density industrial project in a suburban built environment, clusters of offices are typically found together. While this makes maintenance scheduling easier, since all the properties are in one location, it adds to the list of necessary duties.
Property managers must account for daily use of things like parking spaces, access control point management, plumbing, heating, elevators and other components that office employees will use regularly to improve productivity.